Do you want to help Google deliver the internet to the developing world? Of course, you do. Everyone wants to work together with Google. Unfortunately, we cannot give you the key to reach the Google team directly, but we can help you improve your website speed so that people around the world with poor internet connection will be able to browse your remarkable website.
Of course, your main goal is to have a visible website in Google, not for the internet spreading around the world. Let's be honest, when we are talking about SEO, image optimization for most of us is a really boring part. Content marketing, link building, and long-tailed keywords are TOP strategies for SEO, and image optimization is forgotten pretty often. But this is a huge mistake. "The speed of your mobile pages currently doesn't impact your mobile rankings, but soon it may" says Gary Illyes of Google. So today is the right time to boost your desktop and mobile websites.
Actually, there are only three main things you have to pay attention to while optimizing images.
Right file name
The biggest mistake a lazy guy can do is uploading images to the website from your Digital camera or smartphone with initial files names (for example DCM_7485148, LG_20160170804). If you don't invest some time to help Google read the information about your image, Google will not invest time to indexing your content. Your file name helps relevant pictures appear in search results. It provides information about what is in the picture for the search engine. Keep in mind that it is only a name so be sure not to overdo: use up to 2 keywords in one file name.
Alt text
The purpose of Alt attributes is to describe the content of the image file. Alt text is a great opportunity to utilize your keywords and help increase the chances for your image appearing in search results. Moreover, if an image doesn't load in a browser, Alt text will be shown instead and will give the context for what is in the image.
If you are using WordPress, you can add Alt text when editing your picture.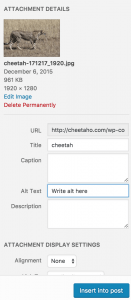 Image optimization
The load time of a website is one of the key factors Google considers in its algorithm. We see many extremely bad examples when a website administrator uploads 7 MB or bigger images to the website gallery.
The most important step in image optimization is resizing. Very rarely are images bigger than 2000×1500 px required for website. You must resize it. Another step in optimizing image size is compressing. And this is where you get to use the image optimization tool CheetahO. Just drag the pictures to CheetahO and it will take care of your images size. And you can install the CheethaO plugin if you use WordPress.
Don't abandon image optimization, because it is a smart way to increase traffic to your site.